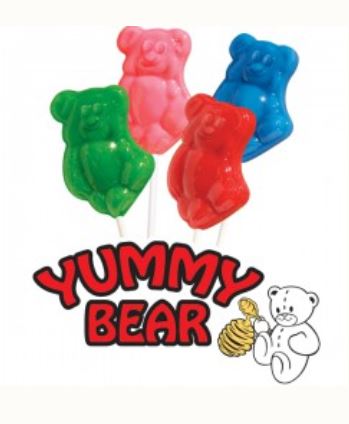 The summer season is all about enjoying the warm weather, fun parties and, of course, the arrival of summer camps. Every year, thousands of kids pack up their bags and spend the time off from school at their favorite camp. Whether it's a camping trip with family, an outing with a Girl or Boy Scout troop, or a themed camping destination, any experience can be made better with delicious Yummy Bear pops.
If you haven't experienced our tasty Yummy Bear pops yet, then you are in for quite the treat.
These are our some of our newest gourmet confections that effectively mix elegance with taste. These pops come in six delicious flavors – blue raspberry, bubble gum, cherry, grape, sour apple and watermelon – so there is a lollipop taste for every pallet. Best of all, these treats are a great choice for everyone, even those with food allergies, as they are free of shellfish, milk, nuts and eggs.
So how can buying these tasty bears in bulk help with your summer camp fun? Well, before camp even begins, they can make a wonderful fundraiser to help you group pay for expenses with the camp. Having everyone in your troop or on your team sell these pops can reduce costs for everyone to attend and cover expenses like busing, utilities, meals and more.
Camp counselors and staff at camps can also buy these treats as a tasty snack option to add in the camp store. They are also great as camp rewards. What could be better than getting first place in the three-legged race and being treated to a Yummy Bear? Sounds like a swell time to us!
Our $200 cases include 640 Yummy Bear pops, so you'll have plenty for fundraising, the camp store or to give away as prizes. Every order from CIMA Confections also includes free shipping, so there's no reason to delay – place and order and try out these new refreshments that everyone is raving about.
At Yummy Lix, we have a huge selection of sugary treats, and they are sure to satisfy just about anyone's sweet tooth. Place an order for Yummy Bears online today or call us at 562-926-6800 to learn more about any of our products.