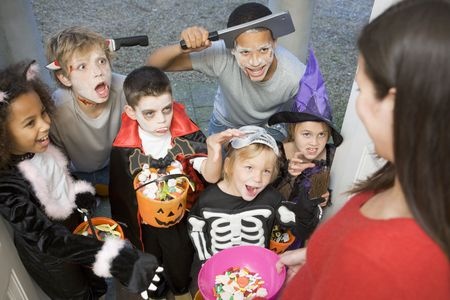 As October begins, Halloween displays are going up, children are choosing their costumes and parents are writing "candy" on their grocery shopping list. Whether you are purchasing candy for your child's classroom party or to hand out on Halloween night, it is difficult to find something that will satisfy all potential allergy restrictions. Especially if your child has a food allergy, you want to make sure there will be snacks they can eat throughout the sugary celebrations. CIMA Confections Yummy Lix Lollipops are a great solution.
Molded in the shape of jack o lanterns, skulls and ghosts, these gourmet lollipops are both delicious and fun. The Lolliween Lollipops are also lactose free, shellfish free, nut free, gluten free and egg free – perfect to give out to all the kids in your neighborhood. With a variety of flavors, including the popular strawberry, sour apple and orange, these lollipops are sure to be a hit!
Talk to your children about their allergies and remind them to pay attention to candy wrappers as the Halloween festivities begin. Also remember to go over Halloween safety with your family, to ensure that everyone has a fun and worry-free night.
Start with your costumes: Choose ones that are bright and reflective or add reflective tape to them to be sure they will be seen by cars on the road. Make sure costumes fit well and do not restrict movement or sight. Also be sure you have flashlights with fresh batteries to take with you while trick-or-treating. Accompany young children on their hunt and plan a designated route for older kids to follow.
Make your home safe for other families by lighting your porch and walkway, removing any decorations or items that could be tripped over. Sweep away wet leaves as well to create a safe walking surface.
Order your Yummy Lix Lolliween Lollipops online for a spooktacular and safe Halloween!