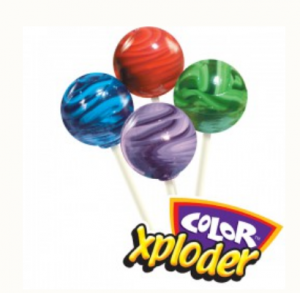 Lollipops have been satisfying people's sweet tooths for quite some time. They are the perfect treat when we're looking for a small snack as well as satisfying a sugar craving. However, sometimes just any old lollipop won't do and we begin to crave something different. If you're looking for something that's a bit different, a Color Xploder lollipop might be just what the doctor ordered.
Color Xploder lollipops are truly one of a kind. Their design features different streaks of color which makes them look like the surface of the planet Jupiter with a series of intricate swirls and patterns. They also come in a wide variety of intensely fruity flavors, meaning they'll satisfy the cravings of young and old alike.
These jumbo lollipops also mean that they won't dissolve as quickly as your average lollipop. Instead, these big lollipops provide an extended blast of great taste and flavor. Plus, these lollipops are friendly for those who have food allergies, and are free of lactose, shellfish, nuts, gluten and eggs, making them a great choice for nearly anyone.
Color Xploders also are a great option for children's birthday parties as favors or just treats for a family gathering. These lollipops would make a nice treat for a football or hockey game or just for an afternoon indulgence while binge watching your favorite shows or enjoying some light reading.
CIMA Confections offers a full variety of specialty gourmet lollipops in numerous flavors, shapes and styles that are sure to satisfy any tastes. Our lollipops are made from old-fashioned recipes and are sure to provide that sugary burst of energy that you need. For more information or to place an order, contact us today!