When it comes time for Halloween, we all see the same candy every year. Now those treats are all delicious but they don't necessarily capture the spirit of the holiday. This year, instead of giving out normal mini candy bars, give everyone who rings your doorbell or attends your Halloween party a special treat with Lolliween Lollipops from CIMA Confections.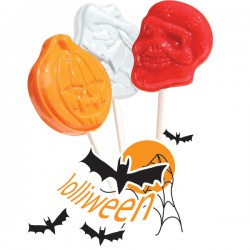 These lollipops are sure to be hit no matter where you hand them out. Available in three different shapes – an orange jack-o-lantern, a white ghost and a red skull – these treats are perfect for getting you in the spooky spirit to celebrate Halloween.
Lolliween Lollipops will make any trick-or-treater's day better. As they go from house to house collecting candy, it can seem like nothing special, but when they see you place one of the red skull lollipops in their bag, it could be among the best candies in their Halloween haul.
These lollipops are also a great option for teachers who are looking to motivate students and get them into the holiday spirit. During Halloween season, you could give the lollipops as an incentive to get their work done or reward them for a hard day of work with something to remind them that a fun night of trick-or-treating is ahead. Plus, all of our lollipops are all allergen-free – no shellfish, milk, nuts, eggs or gluten – which means that you don't have to worry about any sensitivities or allergies in your class.
There are also a lot of events, such as fundraisers, that are themed to reflect the Halloween season. At these events, you just can't hand out normal snacks. That's where Lolliween Lollipops come in. They are sure to be a fun treat that everyone can enjoy or purchase to help make your fundraiser a success, as well as help complete the spooky theme.
In addition to Lolliween Lollipops, CIMA Confections also offers lollipops for other seasons and occasions. Shop our full selection online now, or give us a call today at 562-926-6800.