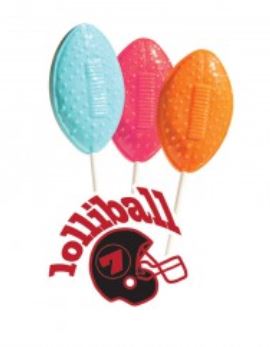 The summer months are some of the best months of the year. These days are filled with warm weather, time with friends and as summer comes to a close, tailgating.
When it comes to tailgating, there are tons of fun appetizer options to choose from but what do you do for dessert? Many people might want cake or pie, but that can get old after a while and it's hard to bring along on a tailgate.
If you're looking for a sweet Sunday football snack, spice up your next tailgating event with some football lollipops!
This may be a suggestion out of left field, but there are actually many fun and delicious benefits to having lollipops at your next event. Most importantly, they are a yummy snack that just about everyone, from nine-year-olds to 90-year-olds will enjoy. How many other game day treats can you say that for?
Lollipops work as the perfect handheld snack so you don't have to worry about lugging around desserts and getting to the game on time. You can fit hundreds of lollipops in a relatively small container.
Best of all, there is literally a lollipop flavor for everyone, especially when you order from CIMA Confections. We have so many gourmet flavors available that you might find a flavor that you haven't even heard of before!
We've got flavors like banana split, caramel apple, strawberry cream, apple cinnamon, and just about every other flavor you can think of. Plus, we even have lollipops that you can bring to just about every sport with our baseball and football pops ready to order at a moment's notice.
These are just some of the many reasons why you need lollipops at your next tailgating event, and when you order from CIMA Confections, then you have options for every guest, from the fun loving rookie to the football hero. If you are ready to spice up your next pre-game event, then contact us to order today!