From birthday parties and family reunions to weddings and corporate get-togethers, we define events by entertainment, experience and—most importantly—the food!
Food can either wow guests or leave a sour taste in their mouth. So, to ensure your event's success, let's focus on the last element served: the dessert.
And not just one dessert… A whole table of desserts!
Here are a few tips to help you create an amazing dessert table for your next event:
Go for variety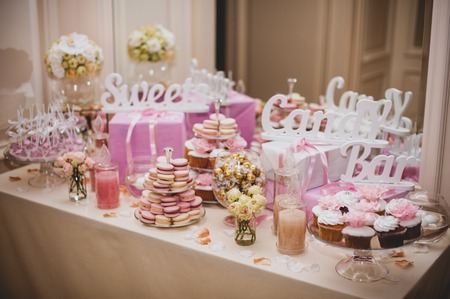 Unless you chose a very specific food-centric theme for your event, present guests with numerous choices to satisfy their sweet tooth.
Serve a variety of desserts in different textures and flavors to help make your dessert table stand out and draw your guests' attention to the treats.
Zoom in on symmetry
Make your dessert table memorable by adhering to the laws of symmetry.
Consider focusing on one centerpiece, like a magnificent cake or large lollipop display, and build out on each side of it.
Symmetrical dessert tables prove traditional and classy for any event!
Consider height and space
Two important elements to consider in creating your awesome dessert table are height and space.
Your table should be balanced and appealing to the eye. Add different levels and rows to your table to avoid an underwhelming appearance.
When it comes to spacing, place your dessert items close together to create an overall deliberate look and use other décor to fill in any empty table space.
Be sure to label!
Label all desserts with tags or small signs to ensure guests know what each treat is. Help your dessert table stand out by adding a banner over the top that complements your theme. Choose legible, easy-to-read fonts for guests. Note which foods may have nuts or other allergens like dairy products.
If there is one dessert your table can't be missing, it's lollipops!
These easy-to-eat treats are the perfect addition to make your dessert table extra special and sweet. Choose some mouth-watering, gourmet lollipops from CIMA Confections to send everyone's taste buds through the roof!
Contact us today with any questions you may have about incorporating our lollipops into your soon-to-be very awesome dessert table!