When you think of lollipops, what comes to mind? Images of your carefree childhood, perhaps? Birthday parties with piñatas full to the brim of the tasty treat? Maybe you remember the munchkin Lollipop Guild from the classic movie "The Wizard of Oz," or even the children's board game Candy Land. Regardless of what comes to your mind, people tend to associate lollipops with fun and happy memories.
Lollipops are the perfect candy for both adults and kids. Both convenient and delicious, lollipops are a great, hands-free sugar snack for after lunch or during work. Lollipops come in a large variety of shapes, colors, sizes and – most importantly – flavors.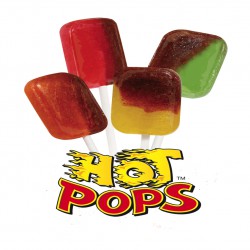 While a great amount of gourmet lollipop flavors abound, few flavor combinations are as addictive as sweet and spicy. When you're craving both of these unique taste sensations, reach for a Hot Pop, a new concept of lollipop sure to excite and intrigue your taste buds.
Perfect for those who love Mexican snacks or for those craving a new taste of candy, Hot Pops include two flavors. One side is dipped into several types of chili while the other is dipped in a sour fruit flavor, allowing you to go back and forth to enjoy each delectable, unique side of the lollipop for its own merits.
You'll have the option to choose your favorite fiery, mouthwatering fruit flavor from the choices of orange, pineapple, green apple, lemon, watermelon and mango. Hot and sour candy flavor combinations are a surging market right now, offering a broad appeal to children of all ages. Our chili component is brand new, however, offering a completely different candy experience for the adventurous consumer.
Hot Pops satisfy your craving for both hot and sour, proving perfect for all seasons. The spicy chili flavors will evoke feelings of warmth against the cold of the fall and winter while the sour fruit flavors will remind consumers of the tangy tastes of spring and summer.
Hot Pops are manufactured on equipment that also processes items with milk, but are peanut free. Find out more about Hot Pops in our online catalog now and place your order today!