Easter is right around the corner, and if you're having a hard time trying to figure out what other kind of candy to offer your customers besides Peeps, we have good news: Yummy Lix has its own line of Easter Joy lollipops!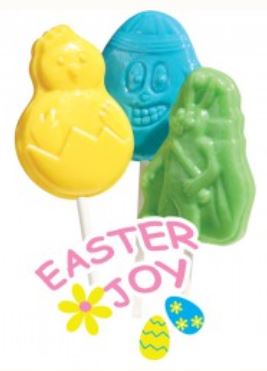 Offering lollipops to your customers as an alternative dessert option is a great way to make sure they have the dessert table or Easter basket totally covered, especially during a holiday season. If you're a retailer, we know your customers will go nuts over our lollipops, especially because of their delicious flavors and allergen-free ingredient list.
If you're planning a fundraiser in your community, a case of Yummy Lix could be the perfect option for your crew. Order some lollies, and hit the pavement with the donation box!  Yummy Lix's line of Easter Joy lollies are perfect for any kind of Easter basket promotion you might be running in your store or any fundraising activities your group might be putting together, and no matter what you order these 'pops for, we're sure your customers will love them.
Easter candy tends to be sickly sweet, and you can only eat so many marshmallow bunnies in your lifetime. Our lollipops come in cases of 640, and are fashioned into popular Easter shapes, like Easter eggs, chicks and bunnies. Plus, they come in a full spectrum of fun and flavorful options, including wild cherry, cotton candy, green apple, bubble gum, strawberry shake and pink lemonade.
Our candy is also made without gluten, nuts, shellfish, eggs or milk, so even someone with tricky food allergies can enjoy Yummy Lix – perfect for fundraising events with lots of attendees! No one will have to worry about kids' allergies acting up.
Gear up for the Easter season today by ordering a case of Easter Joy lollipops from Yummy Lix. Place an order online now or call us at 562-926-6800.