It's finally here, the big game and its time for fans across the country to get ready to tune in to the battle for the champion title.
Everyone loves to gather together to watch the big game, and if you're attending a football party, you should always bring a dish to pass – or at least a dessert! Why go for the same-old standards like cookies and brownies, when you can do something fun that will really stand out? Cima Confections gourmet Lolliballs are one whole ounce of allergen-free fun that are sure to make a splash with your customers, fans, and party goes alike!
Our Lolliballs also make great treats after the game for kids who play football on the school's team, and can even be awesome party favors at graduation parties if the graduate was a football player!
For fans who want to amp up their school or professional team spirit, they can get the flavors or colors that match their team's colors. They are also a great way for teams to raise funds during the game!
Lolliballs are free of nuts, gluten, lactose and eggs, which means that most people who have a tricky dietary restriction, like a gluten intolerance or a nut allergy, can enjoy these pops. These days, it's tough to find a treat that's great for the whole team, but Lolliballs have you covered!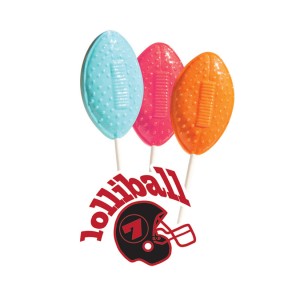 Lolliballs come in green apple, wild cherry, strawberry, raspberry, orange and lemonade flavors, so no matter what kind of flavors your team likes, there's something in the mix for everyone.
These treats are great for celebrating victories or winding down after a tough game, and they also make awesome hostess gifts or football-themed party favors! The possibilities are endless.
Head over to our Lolliballs page for ordering information, and get ready to wow the sports fans out there with these tasty treats!