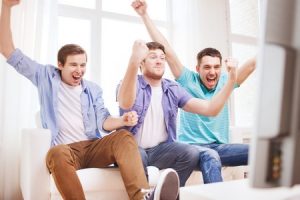 Fall has finally begun which means we ae in the begging of America's most popular sport; Football! This is the time to show support for your favorite team and celebrate with other fans and even rivals!
This season plan the ultimate tailgating experience-at home! You can get all the joy of experiencing a fun tailgate party without wondering how you will get home because your designated driver is shot-gunning beer with wild abandon.
Here are a few tips for planning the ultimate tailgating party at home:
Before you begin purchasing food and supplies, you need an established list of guests. While this list can be flexible and may change, it is important to know about how many people will be attending. This will help establish what you need to purchase and how much you will need. Send informal invitations via email or text and simply ask guests to respond if they will be coming.
Television
Be sure you have a television big enough to accommodate all your guests for a fun viewing experience. Nothing is worse than watching the big game on a little TV. If you don't have a large enough television, consider renting one for the day from a local rent-to-own furniture company
Snacks & Refreshments
Because this is a tailgate party, you need to have all the essential tailgating foods like hot dogs, hamburgers, French fries and beer-of course! Be sure to purchase small snacks like chips & dip, or CIMA Confections Lolliball lollipops to occupy your guests while your grill the hotdogs and hamburgers. Lolliball lollipops are shaped like footballs and are perfect for any fan of the sport with a sweet tooth.
Seats
Once you know how many people will be attending the party you can determine where everyone will sit and if they will fit or not. If you need more seating options use oversized pillows or get a few beanbags. These are low cost options that you can quickly pick up from your local superstore.
CIMA Confections offers gourmet lollipops that are perfect for anyone looking to enjoy a sweet treat or to plan a fundraiser for their local group or high school sports team. For more information on our Lolliball lollipops or to place an order, visit us online. Remember to check our blog for cool party tips and fundraising ideas!