The long awaited day is finally here! Oreo is finally rolling out its three finalists from the #MyOreoCreation Contest to decide on the winning flavor.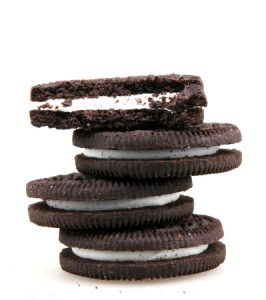 The contest started back in June of 2017, when Oreo handed the reigns over to its fans. The company was flooded with submissions for the new limited-edition Oreo flavor, admitting that they were actually "blown away" by the creativity and innovation of their customers' ideas. The contest perfectly reflected the brand itself, which is known for trying new things with flavor and really thinking outside the box. Previous unique flavors we've seen from Oreo include Swedish Fish, Birthday Cake, and Peeps.
The final three Oreo flavors that are competing for the public's vote are (drum roll please!): Cherry Cola, Kettle Corn, and Pina Colada. Not what you expected, right?
The cherry cola cookie features a cherry-cola-flavored filling with candies, while the kettle corn contestant offers a buttery flavor with puffed pieces on the inside. Last, but not least is the Pina Colada cookies that have a coconut and pineapple crème filling with thin Oreo cookies holding the treat together.
We don't know about you, but these seem like some odd cookie flavors that might shock your taste buds. However, if you're searching for that unique flavor, look no further than our Gourmet lollipops at Cima Confections in 26 mouthwatering flavors, including Pina Colada! We have spicy Hotpops, Color Xploder lollipops and more! Give us a call at 562-926-6800 to learn more about our delicious treats and place your order today.